---
Brought to you by:
---
HOLLYWOOD, CA - After seeing Will Smith received a standing ovation for physical violence in response to a joke, Twitter immediately hired the actor to dole out slaps to comedians they don't like.
"Here at Twitter, jokes are no laughing matter," said Twitter CEO Parag Agrawal. "We hate our precious ideology being made fun of more than we hate terrorists and concentration camps combined. We tried simple censorship, but last night we discovered what appears to be a much more fun and popular way to deal with offensive jokes - literal violence! Who knew you could be applauded for assault and battery, so long as it was in response to a tasteless joke? We are proud to bring Mr. Smith on board to begin a slapping rampage against our foes."
Twitter will add a button for users to tag offensive jokes as 'Reported To Will Smith'. A hand-selected team chosen from a pool of flaming San Francisco liberals will then determine if the joke is indeed slap-worthy. If so, Mr. Smith will be air-dropped within the hour to deliver a vicious, open-handed slap.
"I just do all of this out of love," said a teary-eyed Mr. Smith as he slapped random strangers in preparation for his new job. "Love leads you to destroy your marriage, dump the mess on your children, and assault people. It's all very healthy and life-affirming, which is why people clap for me so much."
At publishing time, comedians across the country had reportedly gone underground to avoid being man-slapped. The editors of the Babylon Bee, however, thought Mr. Smith hit like a sissy little girl and will go about their day as usual.
---
NOT SATIRE: Even as mask mandates are beginning to wane, airlines are still requiring that travelers mask up. If just thinking about masking up for a multi-hour travel experience has you reaching for the Xanax, relax, UnMask has you covered.
We created the made-in-the-USA UnMask out of two layers of the most breathable, ultralight materials that exist. The result is a mask that people can wear and breathe in all day without headaches, claustrophobia, or constantly fighting off anxiety attacks.
Legions of people that wear an UnMask refuse to wear anything else. Try an UnMask and you'll never wear anything else either. Each UnMask is proudly designed and made right here in the USA.
Try an UnMask and save 20% www.getunmask.com/pages/promo-bee - Use the code BEE20 at checkout.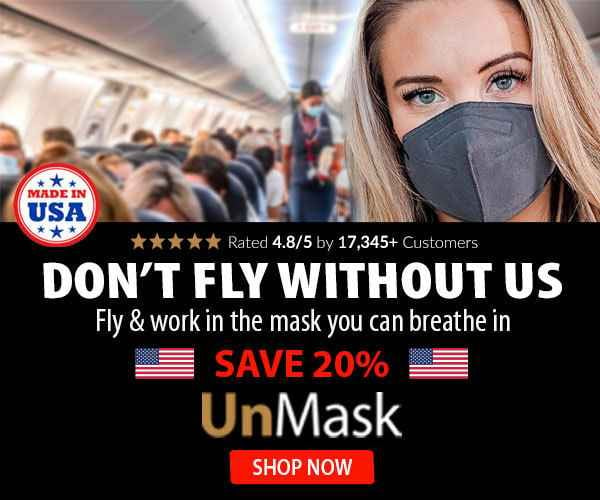 ---
Can this liberal California couple handle their new life in Texas?
Subscribe to our YouTube channel for more 100% accurate videos